MRV webinar on soil carbon
Yesterday, the ORCaSa partners organised a webinar dedicated to MRV (Monitoring, Reporting & Verification) systems for soil organic carbon (SOC). With nearly 70 online participants from all over the world, the aim was to present the MRV system and the approaches and methodologies applied today.
The webinar has been designed to be interactive, so that ideas, experiences and good practices could be easily shared and feed into ORCaSa activities. Indeed, the project team is currently working on a review of all MRV initiatives at international level, with a view to proposing harmonisation and including not only agricultural soils, but also forest and wetland areas, which are part of the ORCaSa field of study.
"The tools and approches available today are very diverse, which is why it is important to establish a reliable and standardised framework for MRV", explained Eric Ceschia, ORCaSa partner and INRAE scientist working at the Center for Spatial Studies of the BIOsphere (CESBIO).
After presenting the different contexts in which the MRV system is applied (national inventories, carbon offsetting programmes, common agricultural policy, etc.), the question of buildings blocks was addressed and participants were invited to share their day-to-day practices.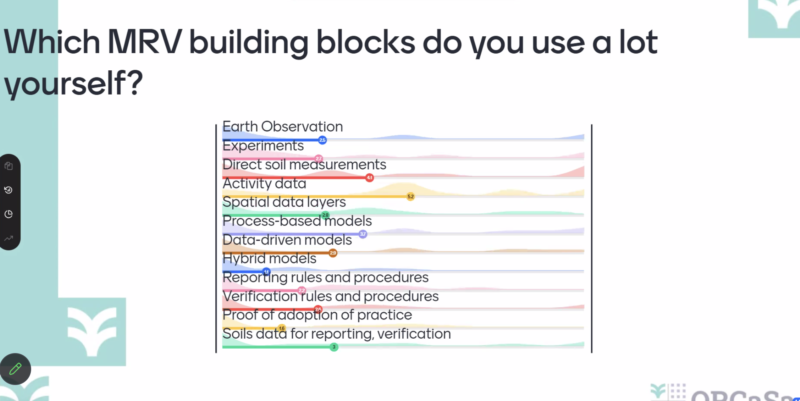 Secondly, Fenny van Egmond and Gerard Heuvelink, from ISRIC- World Soil Information and ORCaSa partners, presented a proposal for a generic MRV framework, which may evolve over the coming weeks as the review and mapping of initiatives progresses.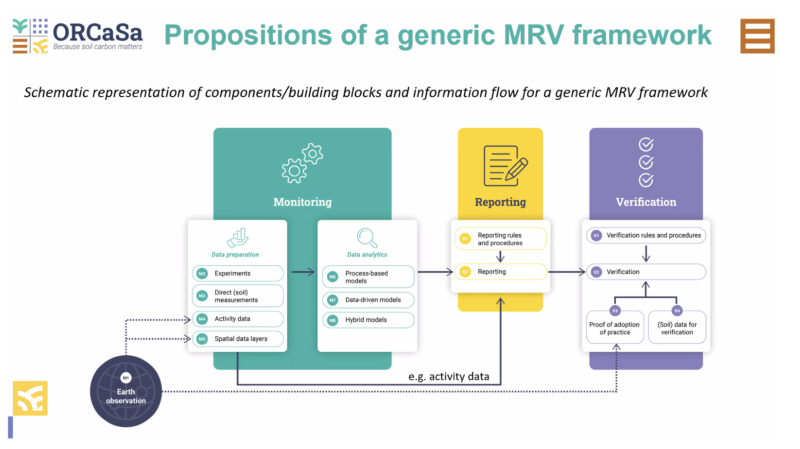 Finally, this webinar was also an opportunity to announce the launch of the International Research Consortium (IRC) on soil carbon in autumn 2023 and to present its objectives and ambition to become a global reference for the alignment of research and innovation activities on soil carbon.
Suzanne Reynders, ORCaSa coordinator, emphasised: "We should work together because time is running out with climate change underway."